Chrysler 300 News
Chrysler 300 300C News, New Product Release, Blogs, Forums and 300 Car Show News and Links
Top 10 car innovations that will improve your life
By Mark Vallet
In recent years, automakers started building cars loaded with new devices, from built-in vacuum cleaners to more high-tech offerings like lane-departure warning systems. The features showing up in the newest vehicles go a step beyond in terms of making your life more convenient, and in many cases keeping you safer behind the wheel.....read more
2014 Chrysler 300S Gets Design Tweaks, Beats Audio
By Jason Siu - Auto Guide
Nov. 15, 2013
Chrysler has unveiled it's 2014 model year 300S, adding even more "blacked out" elements to the sedan
The 2014 Chrysler 300S also gets a new ambassador blue sport interior and exclusive Beats by Dr. Dre audio system. The monochromatic design of the sedan now features body color-matched door handles and fascia inserts while gloss black belt molding, daylight opening surrounds and tail light bezels complement the black headlight bezels for a tougher look....Read More
Mopar Offers Custom Grilles for 2011 Chrysler 300

Introducing Ralph Gilles, designer of the Chrysler 300

Thanx for the memories!
Merci beaucoup
!
muchas gracias
! Much Love.......300FX
Chrysler is preparing a New Generation of 300C
Author:
Dimitar DImitrov
July 30th, 2010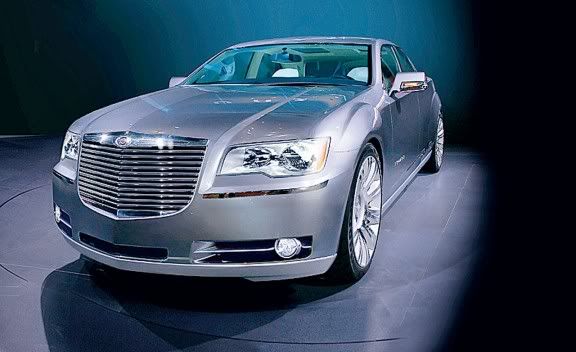 2011 Chrysler 300C
While in Chicago Chrysler does not show anything interesting, however, there appears a picture of the future mask Chrysler 300C 2011. The designer of the Chrysler 300C 2011 Dzhils Ralph (Ralph Gilles, who was recently appointed head of brand Dodge) even gave a presentation on future Chrysler 300C 2011. From this presentation can make conclusions what to expect from this Chrysler 300C 2011. Moreover, it showed the interior of Chrysler 300C 2011 Motor Show in New York last year. It became clear that a new version of the platform......
Read More
Detroit 2010: Chrysler 300 S6 and S8 are reminders of Mopar magic
by
Jonny Lieberman
Chrysler
made one of the past decade's strongest design statements with the 2005 introduction of the
300
. The rear-wheel-drive sedan with blocky styling was a knockout with both the general consumer and, maybe more specifically, the aftermarket. Five years on and the 300 is still a
SEMA
favorite.
Sometimes, modded 300s look pretty swank. Of course, sometimes
not so much
. If you're standing in Chrysler's shoes, obviously you want to muscle in on this market. Meet the 300 S6 and 300 S8. Essentially, these two cars are appearance packages. However, we think they're great looking appearance packs.
The big difference between the new cars (both are badged with "300 S" instead of the more Audi-infringing S6 and S8 monikers) and the regular 300 is the grille. Gone are the full chromed snouts of the normal 300s, in are blacked-out grilles with chrome surrounds and body-colored accents. The doors are "shaved," the mirrors are body-colored and the headlight bezels are darkened. And, of course, the 20-inch wheels are highly polished.....
Read More
Spy Photo of the Next Generation Chrysler 300 (Artist Composite Stetch)
Spied: 2010 Chrysler 300 Four-door Convertible
Folding steel roof means the best of both worlds
While foreign automakers are in a race to catch up with
Mercedes-Benz
's CLS "four-door coupe,"
Chrysler
could become the first automaker to bring a four-door retractable-top sedan to market. Plans are for such a car based on the next-generation Chrysler Group LX platform, no earlier than the 2010 model year....read
more
300 - Redesign
A new version of one of Chrysler's biggest hits, the 300, is expected next year. The higher-end sedan, introduced in 2004, was supposed to herald a new age for Chrysler. Its brash, chest-out look was a marked change from the sloping, futuristic designs the brand had previously been known for. It wasn't uniformly loved, but it got attention and brought in buyers.
The 300 looked much more expensive than it was, and it drove like a pricier car, too. The flagship 300C version also had the famously-named Hemi V8 engine that gave it surprising power.
The 300C won all kinds of awards, including Motor Trend Car of the Year, and Chrysler still boasts that it is the "most award-winning car in history."
Source: CNNMoney.com Feb 18, 2009

Chrysler 300 Series - What the Auto Press Says
Source: US News & World Report
The 2008 Chrysler 300 Series ranks 2 out of 10 Affordable Large Cars. This ranking is based on our analysis of 65 published reviews and test drives of the Chrysler 300 Series, and our analysis of reliability and safety data.....more
Putting Fresh Spin on Iconic Chrysler 300 Presents Challenge
Source: WardsAuto.com, May 22, 2008 9:27 AM
DETROIT - Redesigning an iconic car is a challenge, one faced by Chrysler LLC designers as they work on the next-generation 300 sedan.
Putting a fresh spin on the successful rear-wheel-drive model, which debuted to great buzz and strong sales in spring 2004, is the hard part, vehicle designer Lou Gasevski tells Ward's.......more
300FX

Automotive News 24/7
Chrysler 300 300C

New Product Release
300FX

Chrysler 300 300C Forums
10 auto accessories that you can't be without
Car Cover
. This is one of the most popular auto accessories, especially for those who do not own a garage or carport. A car cover can protect an automobile from inclement weather and even from the occasional flyover of a bird. However, when purchasing a car cover, be sure to read the instructions carefully to avoid damaging the car or having the paint peel off from an improper application.
Seat Cover
. One of the most popular auto accessories for your car's interior is a seat cover. They can help to protect your car's original seats from stains, cigarette burns, tears, etc.
Steering Wheel Cover
. This product, which is designed to provide improved grip on your steering wheel, is created to help your interior in a number of ways. If you purchase a cloth steering wheel cover, it will protect your hands from grabbing an otherwise hot steering wheel after your car has been sitting in the sun. Additionally, a steering wheel cover is one of the more popular auto accessories because it helps to protect the steering wheel from scratches.
Floor Mats
. Every automobile is susceptible to dirt, mud and anything else on the bottom of our shoes. In an effort to keep the floor clean, mats are ideal auto accessories.
Handheld Vacuum
. Not commonly thought of as auto accessories, handheld vacuums are essential to keeping your interior clean. These handy little gadgets are ideal for cleaning seats and the floor of your car.
Hands-free Cell Phone Connector
. Although it is not recommended that anyone drive while talking on the cell phone, there are often emergency situations or calls that need to be addressed and this is why a hands-free cell phone connector is one of the best auto accessories that you could have. Rather than shuffling for the phone, using a hands-free connector is much more convenient and will not distract you from driving.
Cell Phone Charger
. This is one of the essential auto accessories if you own a cell phone. A cell phone charger connects to your phone and also to the cigarette lighter in order to recharge your cell phone's battery. If you happen to encounter car trouble on the highway only to find that your cell phone battery is empty, you will be glad to have this handy little device to give you instant use of your cell phone.
Emergency Battery Charger
. Owning one of these auto accessories could be one of the smartest purchases you make. They are charged at home using a regular outlet, then placed in your car. If your car's battery runs down, you are out of luck unless you have an emergency charger. These will help get you back on the road quickly and without the help of a tow truck.
Child safety seat
. If you have a child, the proper safety seat is a must-have for traveling. While you are on the go, you want the little one to be safe right along with you. A child safety seat is one of the best auto accessories in existence for both you and especially your child.
Harness seatbelt for your pet
. If you have to take your pet to the veterinarian or on a road trip, but have difficulty finding a travel crate large enough to fit him/her, a harness-style seatbelt for your pet will be ideal for keeping your pet in the seat and will prevent it from wondering aimlessly throughout the automobile. This can be both distracting and dangerous to the driver and other pedestrians on the road.
| | | |
| --- | --- | --- |
| | | |
Showtrix

Does Size Really Matter?
13": BG (Baby Gangsta)

14": Slim Shady

15": Wanksta

16": Playa

17": Hustler

18": Shotcalla aka "Peyton Manning"

19": Big Mac

20": Big Baller

21": Bling Bling aka "Dion Neon Sanders"

22": Major Playa aka "Emith Smith"

23": MVP (Most Valuable PIMP)

24": Top Dogg aka "Bow Wow"

26": P.I.M.P

28": OG (Original Gangsta)

30": VIP (Very Important Pimp)
Chrysler 300 Base Chrome Mustache
Introducing the Chrome Mustache from Jenkz custom designed for the 2005 2006 2007 2008 2009 Chrysler 300 Base Model LX, 300 Limited, and 300 Touring Edition. The Patented Chrome Mustache is designed to fit the Chrysler 300 with OEM Factory Grilles or Aftermarket Grilles with no Cutting, alteration or modification to install. It is made of durable ABS Construction and Chrome Plated to Chrysler Specifications. The Chrome Mustache for the 300 Chrysler is engineered for superb visual appearance and easy installation - Installation of the Chrome Mustache is pretty easy and features a Lifetime Warranty to the original purchaser
Features:
Made with High Grade ABS
Chrome Plated to Chrysler Factory Specs
Easy No-Drill installation with pre-applied industrial strength 3M double sided tape
Does not interfere with the adaptive cruise control feature on some of the 2008 2009 models
Lifetime Guarantee to the original owner